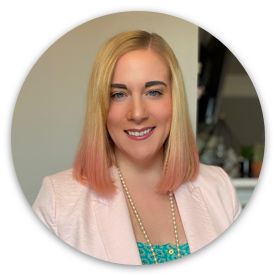 Leslie Bozoian
Leslie Bozoian is a UX/UI designer specializing in digital graphics, currently living in Arlington, Virginia. Her body of work encompasses user experience design and research, company branding, CSS & HTML,  web graphics, visual design, and nearly everything in between. Having worked on a wide variety of projects over the years, Leslie has developed invaluable skills in creatively meeting the needs of each of her clients.
Leslie's approach to design is to offer fresh and inventive concepts unique to each client.  She does this by staying current with emerging trends and by continuously upgrading her skills through taking classes, attending seminars, and viewing cutting edge tutorials. When she is not creating and collaborating in front of a computer Leslie most enjoys dancing, reading, traveling, and organizing her Meetup Group, Free Association.
EXPERIENCE
MetroStar Systems
UI/UX Designer
September 2019 – Present
Reston, VA
As a UX/UI Designer at MetroStar I have worked with both government clients and internal marketing and proposal teams. My responsibilities have included:
– User research conducted through stakeholder and user interviews, work shopping, journey mapping, persona creation, product demos, and project scope creation.
– Wireframing initial ideas to present to leadership and users
– Prototyping high fidelity screens with finished branding
– Design reviews to present new screens and brainstorm edits
– Testing final flows through user testing
– Designing complex process flows and presentations for government contract proposals
– Taking part in government contract tech challenges
– Designing marketing materials for MetroStar
Fannie Mae
Product/UX Designer
January 2018 – September 2019
Washington, DC
Acted as the lead visual designer on the redesign of Multifamily for FannieMae.com. Worked with the product owners and content specialists to wireframe each section of the website. Tools used were Sketch, Creative Cloud, and InVision. The final task was to spec out each page as they are delivered to the team for development.
Helped to build out and design components for Fannie Mae's design system. Also conducted research on Fannie Mae digital products to make recommendations about layouts, fonts, icons, and illustrations.
BD
User Experience Designer
May 2017 –  January 2018
Reston, VA
As a UX Designer at BD I am responsible for creating mobile prototypes using Sketch and InVision. I am working on two mobile application projects that aid diabetics in managing their disease. I am also responsible for conducting research, putting together tests, and interviewing users in formative studies. I work in an agile environment with a large team of developers, project managers, scrum masters, and designers.
Capital One
Senior User Experience Designer
August 2016 –  December 2016
McLean, VA
As a UX Designer at Capital One I am working to redesign three internal desktop applications under the Risk Management branch. My process begins by strategising with project managers and developers to conceptualize each screen of the program. I then use Sketch, the Adobe Creative Cloud, and Invision to mockup and prototype the apps. The screens then go through creative review and are handed off to the back-end team once they are approved.
Hilton Worldwide
Visual Designer
April 2016 – August 2016
McLean, VA
As a Visual Designer at Hilton Worldwide I worked hand-in-hand with other Designers, Account Executives, and the Web Team to create, develop, and extend the Hilton brands. Projects I worked on included wireframing website screens as well as creating advertising, identity, print pieces, and other design collateral.
InnovatorsBox via General Assembly
User Experience Designer
March 2016 – April 2016
Washington, DC
For three weeks I worked on a team project to design a mobile application that would be a companion to the InnovatorsBox workshops. I focused on market research, creating a sketched prototype on Marvel, conducting user interviews, and wireframing a landing page to market the app.
Allegra Marketing and Print
Graphic Designer
June 2014 – March 2016
Rockville, Maryland
During my time at Allegra, I worked as the lead designer driving strategy, concept, and design to deliver value for clients and internal teams. I also designed digital graphics for websites, e-blasts, and social media. With each new project, I managed deadlines and expectations with clients through end-to-end project cycle. I actively used WordPress, Dreamweaver, Adobe Creative Cloud, and Mail Chimp.
The Dandelion Patch
Graphic Design Manager
December 2010 – May 2014
Vienna, Virginia
As the manager of the design studio at The Dandelion Patch, I managed project deadlines, assigned projects to team members, created deadlines for each project step, and managed client expectations.
As a designer, I created custom designs and branding projects utilizing programs such as the Adobe Creative Suite. I worked with customers to create "day of" pieces such as signs, banners, menus, programs, escort cards, and welcome packets for corporate and private events.
I also managed a three-person social media marketing team that was responsible for creating company blog posts and posting to the company Facebook, Twitter, and Instagram profiles.
Education
General Assembly
February 2016 – April 2016
User Experience Immersive Program
User-Centered Design / Prototyping / Wireframes / User Interviews / Information Architecture / User Story & Flow / Usability Testing / Domain Research / Competitive & Comparative Analysis / Persona Development / Affinity Diagramming / Card Sorting / Concept Mapping / User Interface Design / Basic HTML, CSS & Javascript
Northern Virginia Community College
September 2014 – December 2014
Web Design Certification Program
Northern Virginia Community College
May 2012 – June 2012
Web Design I
Marshall University
B.A. in Advertising and Graphic Design
2004 – 2009
Minors in Music, Political Science, and French
GPA 3.5, Dean's List and AAF Honors
-Classroom experience in: layout and design, graphic design, digital imaging, photography, visual art, media literacy, and graphics of communication.
-Activities and Societies: American Advertising Federation
Skills
-Wireframing, Prototyping, User Research, Competitive Analysis, Persona Development, User Testing, Visual Design
-Adobe Photoshop, InDesign, Illustrator, Dreamweaver, Acrobat (Pit Stop)
-Typography, Social Media, Branding, Marketing, Layout
-HTML, CSS, WordPress, Responsive Design
-Microsoft Office Suite